Illustrator and artist Allen Tsukamoto provided a fun distraction for the celebration. As a kid I loved his work in the Hawai`i Fishing News.
I mentioned Allen Tsukamoto in my post about the Salt Lake/Moanalua Library. He's an illustrator who, today, tours libraries and schools using his on-the-spot illustration talents to expose kids to the craft of being an art professional.
As a visual artist, I love to look at illustration work. Perhaps I was too lazy to read as a kid, but I would look at anything illustrated. I remember seeing Allen's comics in the Hawaii Fishing News. I didn't understand some of them but I loved the way they were drawn.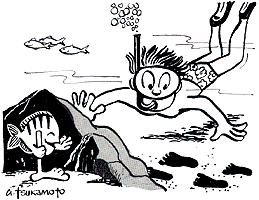 Ha, clever fish. But there's also an illustration of an apparatus of a human foot that a clever fish is using to fool a human being. I loved this as a kid.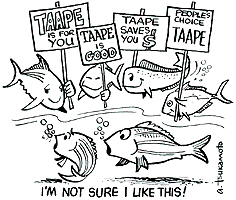 It's an election year! Vote Taape! If you look closely at this drawing you'll see ahi, mahimahi, and a papio. They have decided rather darkly that they'd campaign, but are also illustrated as recognizably distinct species. Taape is also a feeder fish that school in large balls. They attract the bigger predators fisherman are more interested in.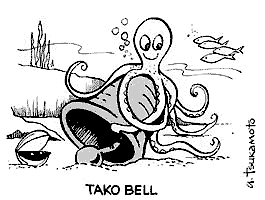 I was even learning about brands!
See more of Allen's work at the bottom of the Hawai`i Fishing News, refresh the page to see them all!